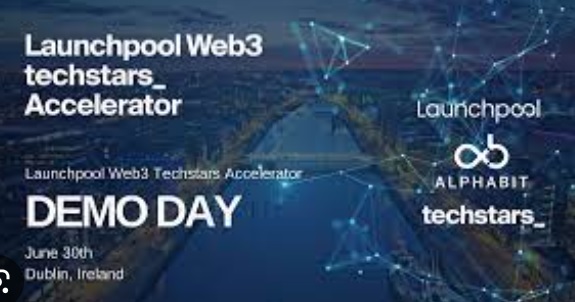 Techstars Web3 Mentoring
Recently, I have been mentoring with the LaunchPool Techstars Web3 Accelerator in Dublin.
My previous mentoring, with NDRC and Village Capital have all been FinTech companies and all 'Web2'. I have been getting more and more interested in Web3/blockchain capabilities and how they can be applied to FinTech – especially Impact FinTech – over the last 12 months and this was a great opportunity for me to get up close with ten cutting edge Web3 start ups and see how they tick.
The big takeaway from me was regardless of the technology 'under the hood' every tech startup faces the same challenges – Product/Market fit, go to market strategy, customer acquisition, growth and monetisation. Once they have those aligned, funding is the next challenge. Once they have funding then the real challenge is to make it actually happen.
The cohort did an excellent job across the board of aligning their visions with the market and then with the tech. Many of this cohort are already making it happen, I look forward to watching them grow into the future.
Over my years in strategy and tech, I have seen many companies promote solutions to a problem that doesn't exist. These companies are usually driven by founders who are passionate about their idea and their tech, but with no problem to solve they never find Product/Market fit and either pivot or die.
Web3 companies face additional challenges here. The tech is so new that potential customers and investors can be sceptical. There is also the risk for innovators/entrepreneurs being dazzled by the tech and promoting ideas where there is a potential market, but no need for the product to be Web3.
The focus for all startups needs to be the market/customer and what they need/want, not what the startup has the ability to do. Customers generally don't care about how a product works, they just want it to work. Where the tech meets the customer needs to be seamless. Web3 has a long way to go here in terms of crypto wallets, exchanges etc. .
Of course the crypto world is crashing (or rebalancing) at the moment, which is what is dominating most observers' opinions of Web3 right now. Articles and commentators are all pointing to the dot com crash as a case study of what is happening in Web3 now, which I think is missing two critical points.
The first, as the Techstars cohort has shown – where none of the companies are a cryptocurrency – there is far more to Web3 and Blockchain than currencies.
Talking with Pete Townsend, MD of Techstars Ireland on the perception of of blockchain: 'We've moved on quite a bit from thinking about crypto as currencies, and that's one of the main misconceptions by the masses. Bitcoin is the only pure cryptocurrency, as everything else has some form of utility that goes beyond a medium of exchange, unit of account and store of value (which are the defining 3 characteristics of a currency). Crypto tokens like the ones that each of the 9 companies in the web3 cohort will eventually bring to market enable the incentivisation of their users and other developers building on top of their products, rather than ever trying to compete with a fiat currency.'
The second critical point is no one seems to be pointing to what happened to the internet after the dot com bubble burst… the internet and ecommerce seem to be doing pretty well since then. I expect blockchain and cryptocurrencies will do the same.
Launchpool Web3 Techstars Accelerator – Dublin 2022
Barterchain
Brief Description: Trade your talents, swap your skills and earn rewards.
Founders: Carla Rosenkranz CEO, Alfredo Giardina, CTO
Website: https://www.barterchain.io/
Big Fan
Brief Description: Reinventing sports collectibles with officially licensed NFTs that provide access to Metaverse-driven fan experiences.
Founders: Eugene O'Brien CEO, Kurt Pittman CCO
Website: https://www.bigfan.io/
Crowdclass
Brief Description: Online Education 3.0. – build, distribute, and monetize ultra-engaging learning activities.
Founders: Filipe Pinho Pereira CEO, Bruno Costa CTO
Website: https://crowdclass.com/
Eczodex
Brief Description: Building the bridge between TradFi and DeFi.
Founders: Michael Quartey CEO, Lukas Bruell Co-Founder
Website: https://www.eczodex.com/
LiveDuel
Brief Description: DeFi-powered digital sports markets and live fan engagement.
Founders: Will Martin CEO, Alex Luce, Laura Brkić – Design
Website: https://liveduel.com/
MegaFans
Brief Description: Mobile esports platform bridging web2 to web3 for gamers and enabling game developers to increase their player lifetime value.
Founders: Jeff Donnelly CEO, Colin Bracey
Website: https://www.megafans.com/
Securo Finance
Brief Description: Decentralized finance made easy. Simplify crypto investing with DeFi indices using an all-in-1 dashboard and API integration.
Founders: Victor Lee CEO, Mah Soon Lai CTO, Alvin Foo – Co-Founder
Website: https://securo.finance/
Staxe
Brief Description: Enabling music and creative production economies in web3.
Founders: Luis Martinez CEO, Martin Liebrich CTO
Website: https://staxe.io/en/
YourDiamonds
Brief Description: Enabling the diamond industry to solve old-world problems through digital technologies and web3.
Founders: Tim Goodman CEO
Website: https://yourdiamonds.com/